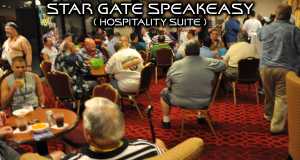 Date:
August 31, 2019 | 2:00pm - 2:00am
Location:
San Diego Marriott Mission Valley
8757 Rio San Diego Drive
San Diego California 92108

Map It!
Ariel's Hideaway (hospitality suite) is open daily to all registered guests. Mingle with your fellow attendees and have a drink (or two, or three).

The Hospitality Suite will be stocked with a selection of refreshments including beer, wine, soda, water, and a selection of spirits. All refreshments, including alcoholic and non alcoholic beverages, are complimentary.